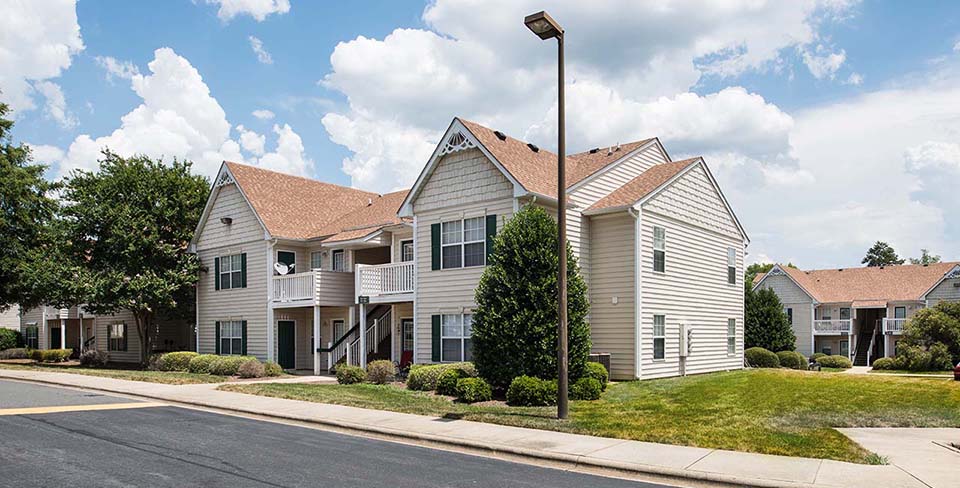 Pines at Carolina Place
The Pines at Carolina Place is located in Pineville, the largest and arguably best suburb of Charlotte, North Carolina. Situated on ten acres with 389 parking spots, its 200 garden-style apartments offer one-, two-, and three-bedroom units. Apartment features include balconies, patios, walk-in closets and central AC. The Pines at Carolina Place has exceptional access to top-rated public schools, healthcare providers, shopping/dining options and employment hubs.
---
TOTAL COST
$ 18,050,000
DESCRIPTION
Pines at Carolina Place consists of 36 one-bedroom units, 116 two-bedroom units, and 48 three-bedroom units. All units were financed through the Low Income Housing Tax Credit Program. All of the current households are at or under 60% AMI, making them income-eligible for tax credits.
FINANCING
| | |
| --- | --- |
| $ 6,779,500 | Fannie Mae |
| $ 3,700,000 | Low Income Investment Fund (LIIF) |
NHPF's diverse income and rent structure provides housing for a range of households from low to moderate income. Notwithstanding income levels, the same level of amenities and access to our services is offered to all residents.
This property is just one example of how NHPF's commitment to affordable housing has helped American families.
ABOUT THE NHP FOUNDATION
Founded in 1989, The NHP Foundation strives to provide quality affordable multi-family housing and resident services for low to moderate income families. Since 1994, NHPF has acquired and preserved 95 properties, totaling 16,495 units, located in 19 states and the District of Columbia. Today, NHPF's portfolio includes 56 properties, totaling 10,000 apartment units, in 15 states and the District of Columbia. NHPF also provides service programs to approximately 28,000 community residents.