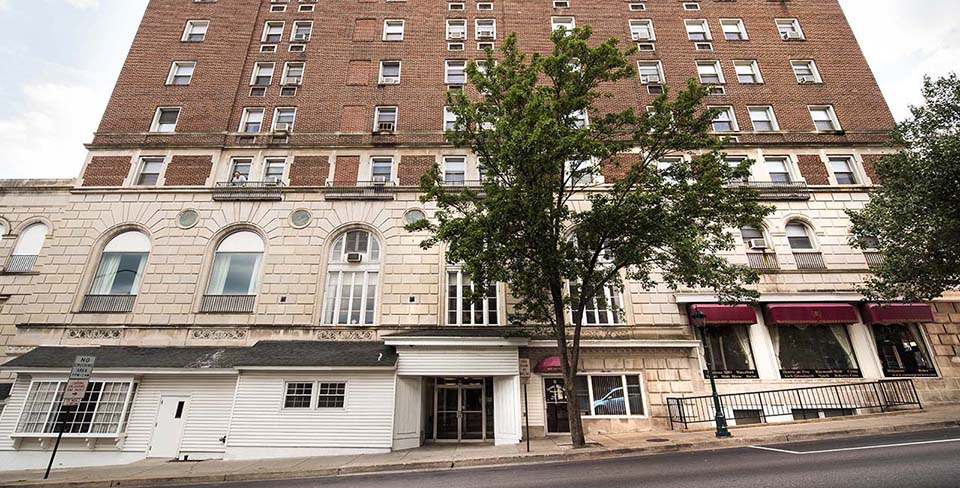 Alexander House
Prominently located in the center of downtown Hagerstown, Maryland, Alexander House was built in 1928 as a hotel in the Renaissance Revival style. It was renovated in 1978 to accommodate 95 units set aside for low-income disabled residents and elderly residents aged 62 and over. The 10-story property also includes over 30,000 square feet of commercial and community space.
---
TOTAL COST
$ 5,975,000
DESCRIPTION
Alexander House consists of 68 studio and 27 one-bedroom units. All of the current households receive rental subsidies through a project-based Housing Assistance Payment contract with HUD.
FINANCING
The Alexander House purchase price was $5,700,000. It was 100% financed by the Enterprise Community Loan Fund. Acquisition and closing costs were covered by NHPF equity and a loan for predevelopment expenses was provided by Falls Church Development Corporation (FCDC). Secured financing and funding for this project include:
| | |
| --- | --- |
| $ 5,700,000 | Enterprise Community Loan Fund (Purchase Price) |
| $ 275,000 | Owner Equity (Transaction Costs & Immediate Repairs) |
NHPF's diverse income and rent structure provides housing for a range of households from low to moderate income. Notwithstanding income levels, the same level of amenities and access to our services is offered to all residents.
This property is just one example of how NHPF's commitment to affordable housing has helped American families.
ABOUT THE NHP FOUNDATION
Founded in 1989, The NHP Foundation strives to provide quality affordable multi-family housing and resident services for low to moderate income families. Since 1994, NHPF has acquired and preserved 95 properties, totaling 16,495 units, located in 19 states and the District of Columbia. Today, NHPF's portfolio includes 56 properties, totaling 10,000 apartment units, in 15 states and the District of Columbia. NHPF also provides service programs to approximately 28,000 community residents.