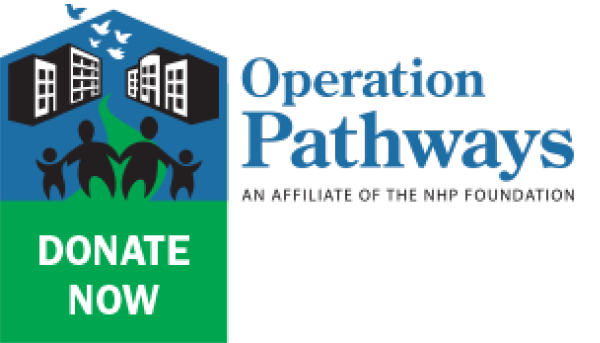 Each Operation Pathways program is managed by an on-site resident services coordinator (RSC) who serves as a case manager for individuals, a programs manager for the site, and a relations manager for our community partners. Click here for a graph depicting the participants in Operation Pathways Services vs. the total residency per NHPF property.
Operation Pathways categorizes its comprehensive programming into five components:
PATHWAY TO ACADEMIC ACHIEVEMENT focuses on the educational needs of residents. Operation Pathways promotes academic achievement and lifelong learning as a means to strengthen in-school success, increase vocational opportunities, and break the cycle of poverty. Operation Pathways' primary focus is the Brighten Up afterschool program, which has three components. The first component is the Home- School Connection which capitalizes on the proximity of our programs to the homes of the children. Our instructors act as liaisons between school and home. The second, Homework Habits, teaches beneficial study skills. The third, Virtual Vacation, engages youth participants in thematic-based academic and cultural activities.
PATHWAY TO HEALTHY LIVING promotes activities and lifestyles that lead to physical, psychological, and emotional wellbeing for individuals and communities. Operation Pathways has hired a manager of health and wellness programs who advises all program staff on healthy living programs and services. Operation Pathways partners with a variety of organizations and individuals to develop and implement healthy living programs, including hospitals, fitness instructors, restaurants, and food service professionals. In many of our housing communities, Operation Pathways staff members work closely with residents to build and maintain community gardens on the property. Working together with nutrition workshops and healthy cooking classes, these vegetable gardens help promote healthy eating habits.
PATHWAY TO FINANCIAL SUCCESS is designed to educate residents in sound financial practices to increase income, decrease expenses, and build assets. We provide opportunities for residents to increase their employability through vocational assessment and job training. There are workshops and classes on managing family budgets, monitoring and fixing credit reports, utilizing banks, and home buying. We partner with a variety of financial institutions, real estate professionals, and the U.S. Department of Labor. By incorporating employment programs with financial education programs, we have created a holistic approach in our Pathway to Financial Success.
PATHWAY TO AGING IN PLACE is designed for the particular needs of our senior resident. NHPF utilizes this pathway of programs for our seniors housing communities, as well as for the seniors living in our multi-family housing community. Programs and workshops in this pathway instruct and promote economic security, healthy living, legal rights and options, maintaining mental capacity, and keeping a safe living environment. We partner with a variety of health care professionals and organizations, financial institutions, and legal counselors.
CASE MANAGEMENT is the one-on-one guidance and referral process implemented by the RSC at each property. RSCs, equipped with referral guides, help residents locate service providers in the local community to fill the gaps of services not offered to them on site