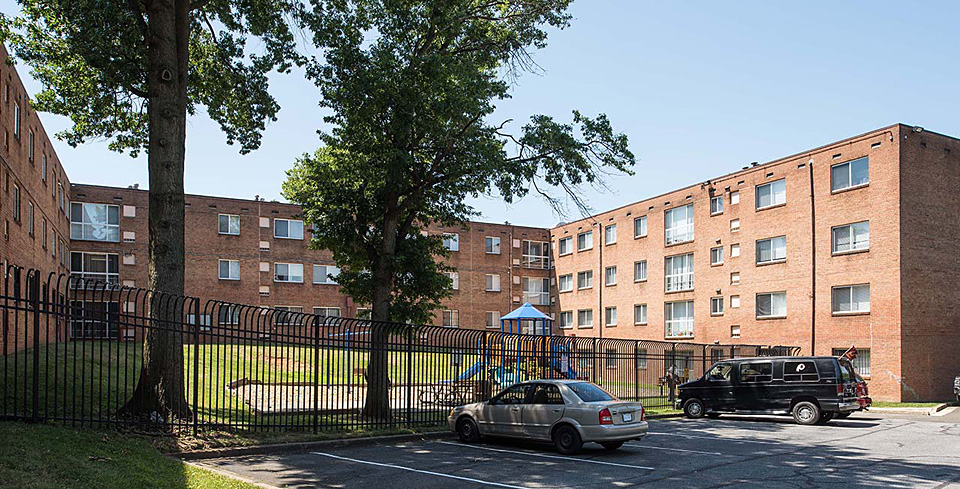 Anacostia Gardens
Built in the early 1960s, Anacostia Gardens is located in the Fort DuPont neighborhood
of Washington, DC's Ward 7. Its 100 apartments have individual gas heating and hot
water systems, as well as central air conditioning. The property has on-site parking,
a laundry facility, and a community room for resident activities. It is adjacent to the
Washington Nationals Youth Baseball Academy and is located in a Qualified Census
Tract (QCT).
---
TOTAL COST
$ 8,876,000
DESCRIPTION
Anacostia Gardens is comprised of 37 single-bedrooms, 49 two-bedroom, and 14
three-bedroom units.
All of its households are at or under 60% AMI, and receive rental subsidy through a
project-based Housing Assistance Payment contract with HUD.
FINANCING
Secured financing and funding for this project included:
| | |
| --- | --- |
| $ 6,400,000 | Eagle Bank |
| $ 2,400,000 | LISC |
| $ 76,000 | Equity |
NHPF's diverse income and rent structure provides housing for a range of households from low to moderate income. Notwithstanding income levels, the same level of amenities and access to our services is offered to all residents.
This property is just one example of how NHPF's commitment to affordable housing has helped American families.
ABOUT THE NHP FOUNDATION
Founded in 1989, The NHP Foundation strives to provide quality affordable multi-family housing and resident services for low to moderate income families. Since 1994, NHPF has acquired and preserved 95 properties, totaling 16,495 units, located in 19 states and the District of Columbia. Today, NHPF's portfolio includes 56 properties, totaling 10,000 apartment units, in 15 states and the District of Columbia. NHPF also provides service programs to approximately 28,000 community residents.