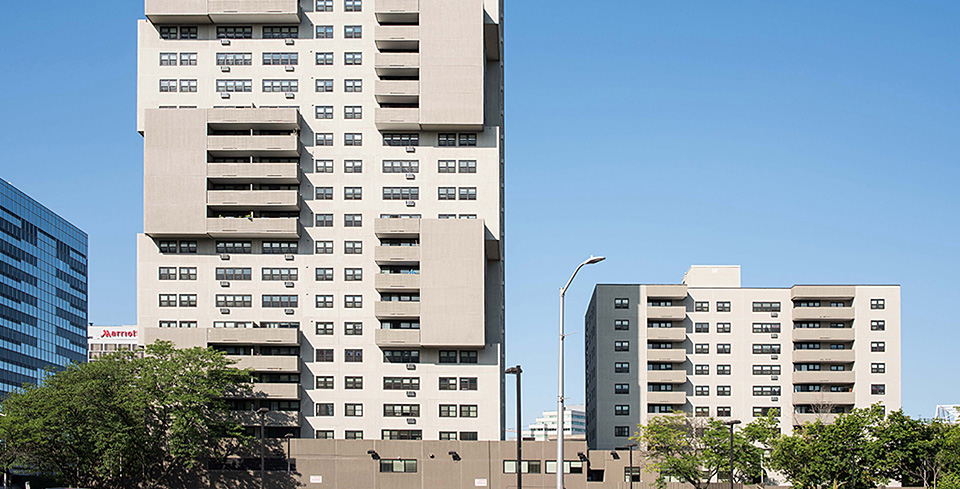 Bayview Towers
Bayview Towers, located in downtown Stamford, Connecticut, is composed of 200 units. The property has several larger units, making it a critical affordable housing resource for working families in Fairfield County. The property is located within minutes to bus and rail public transportation and has easy access to Interstate 95. Bayview Towers was completed in 1973 and was in need of substantial repairs and renovation. In 2012, NHPF began a significant renovation, which includes kitchen and bathroom upgrades, energy efficient appliances, new flooring, replacing domestic and sanitary plumbing lines, new windows, new electrical panels, new AC units, new roofs, converting a portion of the units to be handicap accessible, exterior concrete repairs and re-enforcements, energy efficient lighting, and a new look for the exterior of the buildings.
---
TOTAL COST
$ 36,450,000
DESCRIPTION
Bayview Towers income mix includes 30 units at or below 25% AMI, 151 units at or
below 50% AMI, 9 units at or below 60% AMI, and 10 units at or below 95%AMI.
FINANCING
Secured financing and funding for this project include:
$ 15,550,000
Connecticut Housing Finance Authority Tax-Exempt Bonds
$ 10,900,000
Deferred Sale Price
$ 7,000,000
Federal Low-Income Housing Tax Credit Equity (LIHTC)
$ 1,150,000
Existing Property Reserves
$ 800,000
Interim Income
$ 550,000
Deferred Developer Fee
$ 500,000
Connecticut Housing Tax Credit Contribution (HTCC) from Connecticut
Light and Power
$ 62,000
Per unit in Hard Construction Costs
NHPF's diverse income and rent structure provides housing for a range of households from low to moderate income. Notwithstanding income levels, the same level of amenities and access to our services is offered to all residents.
This property is just one example of how NHPF's commitment to affordable housing has helped American families.
ABOUT THE NHP FOUNDATION
Founded in 1989, The NHP Foundation strives to provide quality affordable multi-family housing and resident services for low to moderate income families. Since 1994, NHPF has acquired and preserved 95 properties, totaling 16,495 units, located in 19 states and the District of Columbia. Today, NHPF's portfolio includes 56 properties, totaling 10,000 apartment units, in 15 states and the District of Columbia. NHPF also provides service programs to approximately 28,000 community residents.