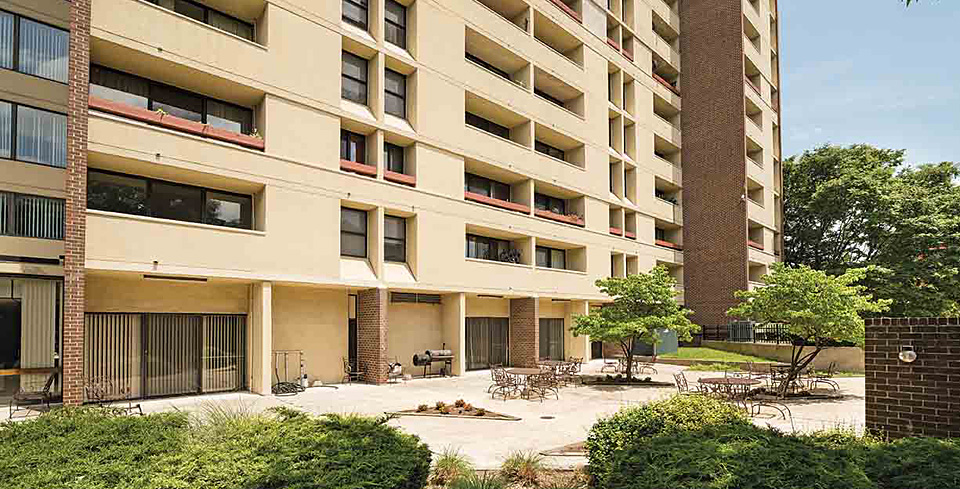 Bolton North
Bolton North is a 209-unit senior housing high-rise located close to Baltimore's Inner Harbor. Directly adjacent to the Maryland Institute College of Art (MICA), this senior-housing community is situated in the historic and thriving Bolton Hill Neighborhood known for its tranquil, tree-lined streets populated by an outstanding collection of restored mid- to late-19th century three-story and four-story townhouses, urban mansions, churches and public buildings. Every unit features its own walk-out balcony, wall-to-wall carpeting, individual HVAC units, well-equipped kitchens, and emergency call buttons, with 24-hour monitoring. Bolton North's public amenities include a community dining room, game room, television room / lounge, central laundry facility, and an ample outdoor courtyard.
---
TOTAL COST
$ 23,180,012
DESCRIPTION
Bolton North consists of 209 units; all units have one bedroom, but for one, which has two bedrooms. The units are 99.5% Housing Assistance Payment (historical vacancy is below 1%).
FINANCING
Secured financing and funding for
this project included:
| | |
| --- | --- |
| $ 15,875,064 | PNC Bank |
| $ 7,304,948 | PNational Housing Preservation Fun |
NHPF's diverse income and rent structure provides housing for a range of households from low to moderate income. Notwithstanding income levels, the same level of amenities and access to our services is offered to all residents.
This property is just one example of how NHPF's commitment to affordable housing has helped American families.
ABOUT THE NHP FOUNDATION
Founded in 1989, The NHP Foundation strives to provide quality affordable multi-family housing and resident services for low to moderate income families. Since 1994, NHPF has acquired and preserved 95 properties, totaling 16,495 units, located in 19 states and the District of Columbia. Today, NHPF's portfolio includes 56 properties, totaling 10,000 apartment units, in 15 states and the District of Columbia. NHPF also provides service programs to approximately 28,000 community residents.