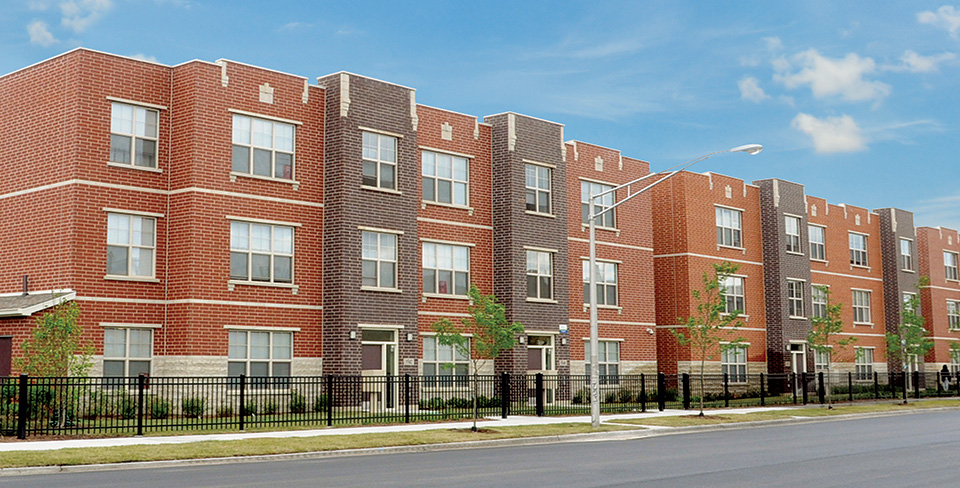 Harvest Homes Apartments
NEW CONSTRUCTION
NHPF partnered with People's Community Development Association of Chicago, Inc., a community-based not-for-profit organization, as co-general partners and co-developers on the construction of 36 new 100% affordable family units in Chicago's East Garfield Park neighborhood. The project is the largest new residential construction in the neighborhood in the last 15 years. The location is one half block from Garfield Park and close to the well known Garfield Park Conservatory.
The property is just north of the Eisenhower Expressway (Interstate 290), connecting residents with job centers in the western suburbs and Downtown Chicago. It is just five miles from Chicago's Loop, with excellent east/west and north/south bus service within two blocks. The Illinois Medical District, another important job generator, is just 2.5 miles east of Harvest Homes. A stop for the Chicago "L"s blue line that provides service to the Loop and O'Hare Airport is a about a 15 minute walk from Harvest Homes.
Harvest Homes went through the City's Planned Unit Development process as some of the buildings sit on lots that had been zoned for commercial use. As a redevelopment of sites that had once been fully developed, and later razed, the project involved extensive environmental remediation and going through the state environmental protection agency's process for obtaining a No Further Remediation Letter.
---
TOTAL COST
$ 14,400,000
DESCRIPTION
The complex is composed of four buildings, including two-, three-, and four-bedroom units. With the majority of its units having three or four bedrooms, Harvest Homes is an ideal residential property for working families.
PERMANENT FINANCING
| | |
| --- | --- |
| $ 11,914,000 | City of Chicago allocated Federal Low Income Housing Tax Credits Syndicated by Enterprise Community Investments, Inc. |
| $ 1,039,544 | City of Chicago Tax Increment Financing |
| $ 600,000 | Permanent Loan provided by JP Morgan Chase |
| $ 366,806 | Deferred Developer Fee |
| $ 184,250 | State of Illinois Donation Tax Credit Proceeds (US Bank National Association was purchaser) |
| $ 149,400 | State of Illinois Department of Commerce and Economic Opportunity Energy Grants |
| $ 146,000 | City of Chicago 28th Ward Infrastructure Grant |
OTHER FINANCING
| | |
| --- | --- |
| $ 9,000,000 | Construction Loan provided by JP Morgan Chase |
| $ 355,000 | Predevelopment Loan provided by Chicago Community Loan Fund |
NHPF's diverse income and rent structure provides housing for a range of households from low to moderate income. Notwithstanding income levels, the same level of amenities and access to our services is offered to all residents.
This property is just one example of how NHPF's commitment to affordable housing has helped American families.
ABOUT THE NHP FOUNDATION
Founded in 1989, The NHP Foundation strives to provide quality affordable multi-family housing and resident services for low to moderate income families. Since 1994, NHPF has acquired and preserved 95 properties, totaling 16,495 units, located in 19 states and the District of Columbia. Today, NHPF's portfolio includes 56 properties, totaling 10,000 apartment units, in 15 states and the District of Columbia. NHPF also provides service programs to approximately 28,000 community residents.