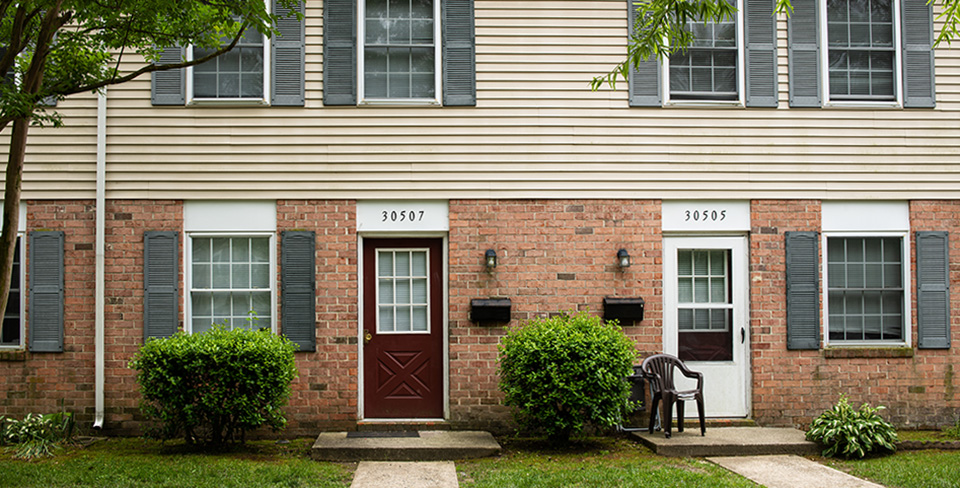 Princess Anne Townhouses
Princess Anne Townhomes is located in Princess Anne County, Maryland. The development consists of 120 garden-style, multifamily, affordable rental townhouses. The project is well situated (just across the street from University of MD Eastern Shore) both geographically and transportation-wise. Princess Anne is located 12 miles from Salisbury, MD and easily accessible to all the area amenities it provides via Ocean Highway/US Route 13, located just a half mile from the property. The property was built in 1974 and was rehabilitated in 2001 with Low Income Housing Tax Credits (LIHTC).
All of the units are two or three-bedroom townhouse apartments with living room, dining and kitchen on the first floor and internal stairs to the second-floor bedrooms and bathrooms. Units feature fully equipped kitchens with modern appliances including a refrigerator, dishwasher and garbage disposal, along with washer/dryer connections. All units feature tile flooring in the kitchen and bathrooms, and wall to wall carpeting in the bedrooms. Some living areas are carpeted, while others are finished with tile flooring.
---
TOTAL COST
$ 9,397,500
DESCRIPTION
Community amenities include a freestanding brick clubhouse with leasing offices, on-site laundry facility, business center and fitness center, along with a large central playground. The clubhouse is used to provide after-school and summer day care and activities for resident's children. A small additional building houses the maintenance office.
Princess Anne Townhomes income limits: 100% of the units are at or below 60% of the area median income (AMI)
FINANCING
Secured financing and funding for
this project is below:
| | |
| --- | --- |
| $ 9,397,500 | LIIF Bridge Loan |
NHPF's diverse income and rent structure provides housing for a range of households from low to moderate income. Notwithstanding income levels, the same level of amenities and access to our services is offered to all residents.
This property is just one example of how NHPF's commitment to affordable housing has helped American families.
ABOUT THE NHP FOUNDATION
Founded in 1989, The NHP Foundation strives to provide quality affordable multi-family housing and resident services for low to moderate income families. Since 1994, NHPF has acquired and preserved 95 properties, totaling 16,495 units, located in 19 states and the District of Columbia. Today, NHPF's portfolio includes 56 properties, totaling 10,000 apartment units, in 15 states and the District of Columbia. NHPF also provides service programs to approximately 28,000 community residents.