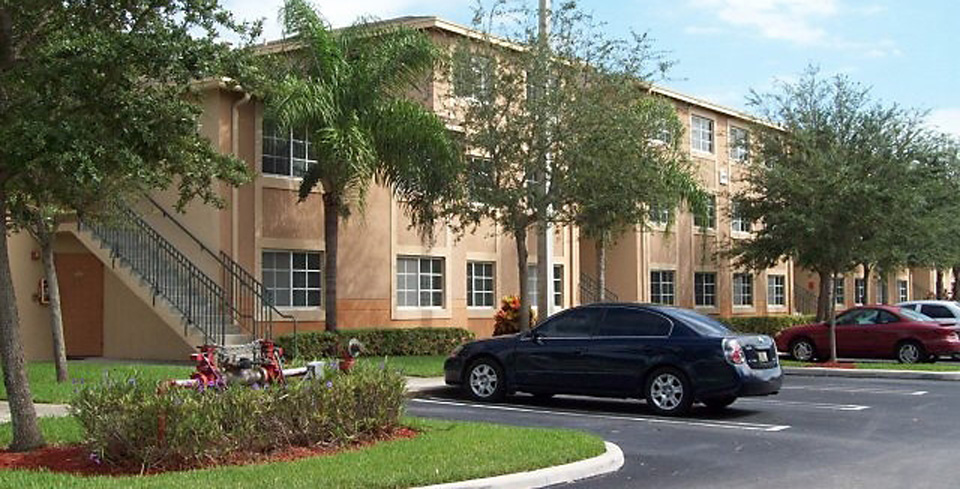 Sunset Bay Apartments
Constructed in 2001, the Sunset Bay Apartments are located in Cutler Bay, an area in the southern part of Miami, Florida. The property includes 308 apartments in 13 separate three-story residential buildings. There are two auxiliary structures and 562 parking spaces. Property amenities include a clubhouse, business center, fitness center, pool, playground, and car care center.
---
TOTAL COST
$ 26,170,000
DESCRIPTION
Sunset Bay is comprised of 45 one-bedroom, 149 two-bedroom, and 114 three-bedroom units. Sunset Bay is a 100% Tax Credit Property and subject to a Land Use Restriction Agreement ("LURA"). Eight units are restricted to households earning 33% or less of Area Median Income ("AMI"), while the balance is restricted to households earning 60% or less AMI. The initial tax credit compliance period has expired.
FINANCING
This transaction was limited to a transfer of limited partner interests only, in partnership with The Partnership Inc. (TPI), a non-profit affordable housing owner, developer, and property manager founded in 1994 and based in Florida. Secured financing and funding for this project included:
| | |
| --- | --- |
| $ 25,620,000 | Wells Fargo Bank |
| $ 550,000 | Owner Equity |
NHPF's diverse income and rent structure provides housing for a range of households from low to moderate income. Notwithstanding income levels, the same level of amenities and access to our services is offered to all residents.
This property is just one example of how NHPF's commitment to affordable housing has helped American families.
ABOUT THE NHP FOUNDATION
Founded in 1989, The NHP Foundation strives to provide quality affordable multi-family housing and resident services for low to moderate income families. Since 1994, NHPF has acquired and preserved 95 properties, totaling 16,495 units, located in 19 states and the District of Columbia. Today, NHPF's portfolio includes 56 properties, totaling 10,000 apartment units, in 15 states and the District of Columbia. NHPF also provides service programs to approximately 28,000 community residents.