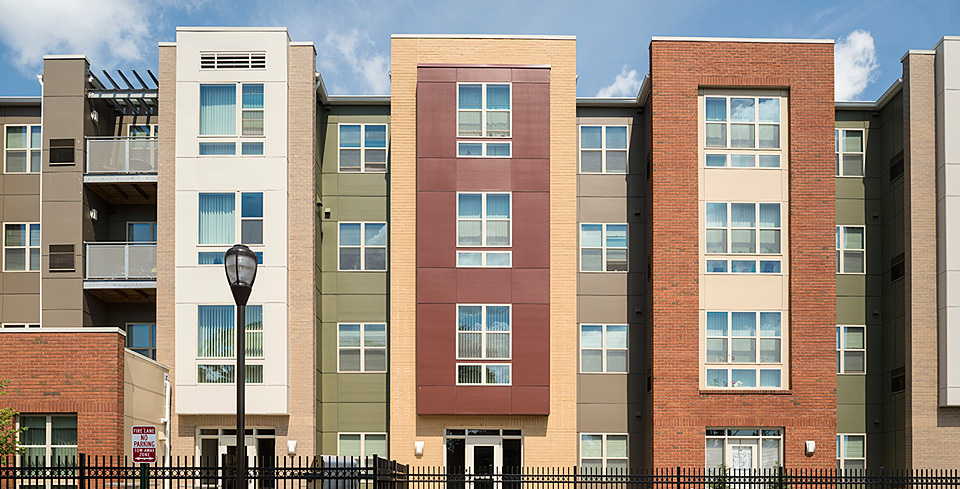 The Roundtree Residences
The Roundtree Residences is a 91-unit senior housing development in southeast Washington, DC. Construction began in January, 2012 and was completed in March, 2013. The Roundtree Residences is owned in partnership with Vision of Victory CDC (VOV), which is a part of Allen Chapel AME Church, a pillar of the surrounding community. NHPF served as developer of the property in partnership with VOV and District Development Group, LLC, a local for profit development company.
The property includes a community room, internet café, exercise room, and an onsite medical clinic for residents. NHPF was committed to having this project contribute to local economic development. 65% of construction sub-contracting was with local (Ward 8), small, or disadvantage business and 15% of labor-hours were with local residents. Both of these were well in excess of local requirements.
---
TOTAL COST
$ 16,265,673
DESCRIPTION
This property is 80% affordable at 60% AMI and 20% affordable at
50% AMI. There are 80 one-bedroom units and 11 two-bedroom units.
PERMANENT FINANCING
$ 5,050,000
Tax-Exempt Bond Proceeds (DC Housing Finance Agency NIBP bonds, enhanced by Freddie Mac and processed by PNC)
$ 88,250
LIHTC additional payment for equity closing costs
(Bank of America)
$ 5,131,401
LIHTC Syndication Proceeds (Bank of America)
$ 5,000,000
HOME Loan (DC Department of Housing and Community Development)
$ 651,946
Neighborhood Investment Fund (Sponsor Loan)
$ 171,610
Deferred Development Fee (Sponsors)
$ 169,446
Accrued and Deferred Interest (Sponsors and DHCD)

CONSTRUCTION PERIOD ONLY FINANCING
| | |
| --- | --- |
| $ 2,388,000 | Short Term Bond Purchase/Bridge Loan (Bank of America) |
| $ 5,130,236 | Letter of Credit (Bank of America) |
NHPF's diverse income and rent structure provides housing for a range of households from low to moderate income. Notwithstanding income levels, the same level of amenities and access to our services is offered to all residents.
This property is just one example of how NHPF's commitment to affordable housing has helped American families.
ABOUT THE NHP FOUNDATION
Founded in 1989, The NHP Foundation strives to provide quality affordable multi-family housing and resident services for low to moderate income families. Since 1994, NHPF has acquired and preserved 95 properties, totaling 16,495 units, located in 19 states and the District of Columbia. Today, NHPF's portfolio includes 56 properties, totaling 10,000 apartment units, in 15 states and the District of Columbia. NHPF also provides service programs to approximately 28,000 community residents.