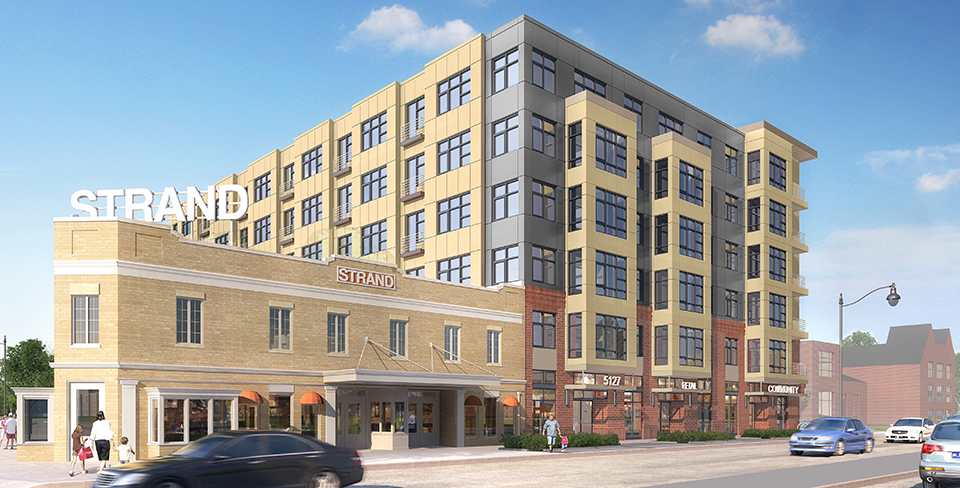 Affordable Housing
Coming Soon to
Washington, DC
Coming Soon: Strand Residences
Once completed in the first quarter 2021, the Strand Residences will bring 86 affordable apartments (71 one-bedroom and 15 two-bedroom units) to the Deanwood neighborhood. One-third of the units (or twenty-eight units) will be replacement housing for the nearby Lincoln Heights and Richardson Dwelling properties and will be affordable to households who earn less than 30% of the area median income. The building also has two retail bays for neighborhood-based companies, a gym and bike locker, a patio and lounge, and two large community rooms. The Residences is next door to the Strand Theater, a historic landmark that the NHP Foundation intends to renovate in 2020.
---
TOTAL COST
$ $38,265,000
REDEVELOPMENT
NHPF is collaborating on the project with The Warrenton Group and the Washington Metropolitan Community Development Corp (WMCDC) to undertake a $38 million redevelopment project utilizing low income housing tax credits and tax-exempt bonds, as well as subsidies provided by DC Government.
PERMANENT FINANCING
| | |
| --- | --- |
| $ 15,600,000 | District's New Communities Initiative |
| $ 12,265,000 | 4% LIHTC (Enterprise Housing Credit Investments) |
| $ 8,500,000 | Tax-exempt Freddie Mac loan by JLL |
| $ 1,900,000 | Deferred Development Fee |
CONSTRUCTION PERIOD ONLY FINANCING
| | |
| --- | --- |
| $ 11,000,000 | Short term tax-exempt bonds (D.C. Housing Agency) |
NHPF's diverse income and rent structure provides housing for a range of households from low to moderate income. Notwithstanding income levels, the same level of amenities and access to our services is offered to all residents.
This property is just one example of how NHPF's commitment to affordable housing has helped American families.
ABOUT THE NHP FOUNDATION
Founded in 1989, The NHP Foundation strives to provide quality affordable multi-family housing and resident services for low to moderate income families. Since 1994, NHPF has acquired and preserved 95 properties, totaling 16,495 units, located in 19 states and the District of Columbia. Today, NHPF's portfolio includes 56 properties, totaling 10,000 apartment units, in 15 states and the District of Columbia. NHPF also provides service programs to approximately 28,000 community residents.